Cold Water Pump
Water from the tender is delivered to the cold water pump located under the left side of the cab. Two cold water pump models are available: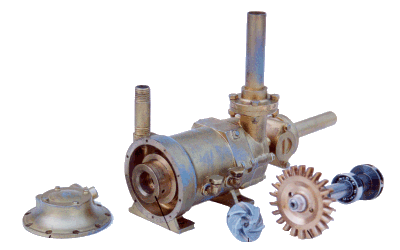 Dummy (Water flows through the model.)
Kit consists of 4 lost wax bronze castings and drawings. You furnish the bolts/nuts and do the machine work.
Most live steamers buy the dummy pump for cost savings since you cannot see the pump working. The tender-supplied water flows through the dummy to the hot water pump.
| | |
| --- | --- |
| Price: | $165 |
| Handling, Postage, and Insurance: | $12 |
| Total: | $177 |
Working Pump
Kit consists of 4 lost wax castings and drawings, 2 ball bearings, 2 radial "O" rings, turbine wheel, pump impeller, stainless steel shaft material, a 4-40 screw, a locknut, and about a dozen drawings.
| | |
| --- | --- |
| Price: | $410 |
| Handling, Postage, and Insurance: | $15 |
| Total: | $425 |
You must machine all parts except of course those that are finished already and supply your own bar stock, etc.. This pump is a booster and is not required for the system, but it is fun to have working. This pump will deliver 3 gallons per minute (when open to atmospheric pressure) or will develop 35 psi in the hot water pump inlet when the hot water pump is shut down. The nozzle can be interchanged to derate the pump if required.
This pump could be a good fire pump for use along the railroad in dry areas.
Working Model Drawings
Only about 20 working pumps have ever been sold and I have not restocked the expensive impellers or turbine wheels. Only one unit is left in inventory, but the drawings show how to make all the parts including impeller and turbine wheel for those who want to build a working pump after I sell the last one.
| | |
| --- | --- |
| Price: | $200 |
| Postage: | $10 |
| Total: | $210 |